Veteran Marine Scientist Named Co-director of Two MSU Research Institutes
December 15, 2020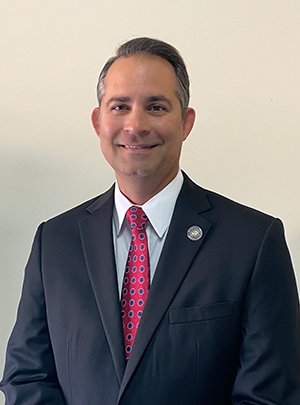 Dr. Paul Mickle
Co-director, NGI
Associate Director, GRI
Photo Submitted
A marine scientist with extensive research and leadership experience will become the new co-director of the Northern Gulf Institute, a NOAA Cooperative Institute, led by Mississippi State. He will also serve as an associate director of the university's Geosystems Research Institute.
Paul F. Mickle comes to MSU from the Mississippi Department of Marine Resources where he has been the chief scientific officer since 2017. Mickle will assume his research institute responsibilities and serve as the new technical lead at MSU's Science and Technology Center located at Stennis Space Center in Hancock County.
"In just the past six years alone, Dr. Mickle has developed and acquired more than $7 million in research funded programs," said NGI and GRI Director Robert Moorhead. "His extensive background as a marine scientist, instructor and leader tasked with confronting important issues relating to coastal conservation and management makes him an excellent choice for ensuring sound science outcomes and developing cooperative relationships with policymakers, private groups and the public."
Mickle began working for the MDMR in 2014 and worked his way up to chief scientific officer by serving first as a marine biologist, before being promoted to marine biologist coordinator and then elevated to MDMR leadership by serving as a deputy administrator. On the conservation-based side of his career, he has published more than 20 peer reviewed publications.
"The Northern Gulf Institute and Geosystems Research Institute are great examples of how MSU's interdisciplinary research culture and strategic partnerships produce terrific scientific value and address key problems for our state and region," said MSU Vice President for Research and Economic Development Julie Jordan. "Dr. Mickle brings extensive experience to these positions and will continue to be a strong asset for the Gulf Coast region as these institutes continue their important work."
Mickle earned a bachelor's degree in environmental science at the University of Florida in 2002. He is a two-time graduate of the University of Southern Mississippi, earning both a master's degree and a doctorate in fish biology. He worked as a post-doctoral fellow for USM from 2010-2014. Mickle also plans on continuing his passion for teaching in the classroom. He will be academically affiliated with the MSU Department of Wildlife, Fisheries and Aquaculture.
For more on the MSU-led Northern Gulf Institute, and Mississippi State's Geosystems Research Institute, visit
www.northerngulfinstitute.org
and
www.gri.msstate.edu
.
MSU is Mississippi's leading university, available online at www.msstate.edu
By Diane L. Godwin