GRI Researcher Earns Early Career Agricultural Scientist Award
November 23, 2020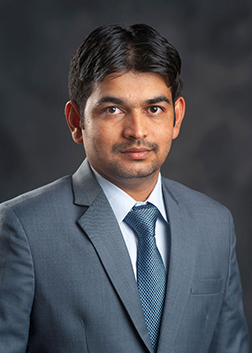 Raju Rangappa
GRI Researcher
Early Career Agricultural Scientist Award
Raju B. Rangappa, an assistant research professor in the Department of Plant and Soil Sciences in Mississippi State University's College of Agriculture and Life Sciences, received the Early Career Agricultural Scientist Award from the Association of Agricultural Scientists of Indian Origin, or AASIO.
Rangappa was honored at the AASIO's annual meeting, held virtually on Wednesday, November 11, 2020 as part of the Tri-Society annual conference of the American Society of Agronomy, the Crop Science Society of America and the Soil Science Society of America.
"It's a great honor and I am proud to receive this award. This accolade motivates me and reminds me of the responsibilities and expectations that lie ahead in my career," he said.
Rangappa, who joined MSU as a plant stress physiologist in 2020 works closely with the university's Geosystems Research Institute, and aims to connect stress physiology with aerial observable characteristics to improve soil-plant health sustainability. He studies drought and temperature impacts on crops along with physiological responses of plants to these pressures in hopes of finding ways to develop more resilient varieties.
Specifically, he focuses on improving cereal and legume resilience to abiotic stresses at different development stages by identifying traits, mechanisms and genomic regions that induce tolerance to these types of stress.
"My work captures the natural genetic potential to mitigate climate change impacts on food production," he said. "I believe this research area has the potential to address agricultural production challenges at a national and global scale, to feed current and future generations."
An active member of several professional societies, Rangappa has authored or co-authored 23 peer-reviewed scientific articles in high impact journals. In November 2019, he received the Young Scientist Award from the Indian Society for Plant Physiology.
Rangappa, who grew up on his family's farm in Bheemanahalli, India, earned master's and doctorate degrees from the University of Agricultural Sciences in Bengaluru, India graduating as a gold medalist, one the university's highest academic honors. He went on to work at the International Rice Research Institute in the Philippines, before completing a post doctorate appointment at Kansas State University.
In 2019, Te-Ming Paul Tseng, MSU assistant professor in plant and soil sciences and native of Kolkata, India, earned the Early Career Agricultural Scientist Award from the AASIO, making this the second consecutive year an MSU scientist has received the accolade.
MSU is Mississippi's leading university, available online at
www.msstate.edu
.
By Vanessa Beason