MSU Remains Mississippi's Top Research University in Latest NSF Survey
November 25, 2019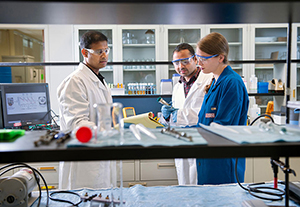 Mississippi State University is once again ranked as Mississippi's top research university in the latest report from the National Science Foundation.
MSU also retains its status as a top 100 research institution in the recently released NSF Higher Education Research and Development Survey for Fiscal Year 2018. With $244 million in total research and development expenditures, MSU ranks 98th nationally, is 61st among non-medical school institutions and is 67th among public universities.
NSF's survey, the primary source of information for research and development expenditures at U.S. colleges and universities, found that MSU accounted for more than half of expenditures reported by all Mississippi institutions in FY18. With an increase of $3 million from the university's fiscal year 2017 research funding, MSU has increased its research and development expenditures for five consecutive years. In addition to being an NSF top 100 research university, MSU holds the "Very High Research Activity" designation from the Carnegie Foundation.
"MSU's ongoing success as an R1 research university is due to the exceptional work of our dedicated faculty researchers and scientists," said MSU Interim Vice President for Research and Economic Development Julie Jordan. "This high level of research is being conducted in state-of-the-art facilities and provides more students than any other institution with the opportunity to have a positive impact on the lives of others in Mississippi while earning their degrees."
With a diverse research portfolio, MSU ranks in the top 15 nationally in both agricultural sciences (11) and social sciences (12). For the seventh consecutive year, MSU leads all Southeastern Conference universities in social sciences research funding. MSU leads the state with nearly 4,000 research personnel, including 661 principal investigators.
Jordan noted that MSU's research focuses on areas that make an impact in society, continuing the university's land-grant mission. She pointed to ongoing projects aimed at improving nutrition in rural areas, developing new precision agricultural techniques to increase production and reduce environmental impacts, and developing policies for the safe use of unmanned aircraft in public airspace, among others. MSU's research capabilities are also an asset for state economic development efforts.
"The MSU research enterprise drives innovation and economic development for Mississippi by solving real problems and fostering an innovative culture where faculty and students are encouraged to dream, develop new technologies and start new enterprises that change the world," Jordan said.
MSU leads universities in the state in engineering, computer science, agricultural science, life science, mathematical sciences, psychology, social science and education.
With $105 million in reported funding for agricultural sciences and natural resources conservation, the survey affirms MSU's commitment to Mississippi's $8 billion agriculture and forestry industry.
"It is our goal to meet the needs of Mississippi's agricultural industry through innovative research addressing issues that are critical to the success our clientele," said MSU Interim Vice President for Agriculture, Forestry and Veterinary Medicine Reuben Moore. "Our ranking underscores the dedication of our ag units to solving problems and developing new practices that will improve profitability, increase production and help meet the world's growing need for food."
Three Bagley College of Engineering disciplines are rated in the top 50, with aerospace and mechanical engineering both ranking 34th and industrial engineering ranking 38th. MSU also ranks 28th in the NSF's "Other Engineering" subfield. In the College of Arts and Sciences, MSU ranked 43rd in atmospheric science and 50th in geological and Earth science.
Mississippi State's research funding comes from a wide range of sources, including business and industry, trade groups, and local governments, state offices and federal agencies, including the U.S. Department of Agriculture, National Institutes of Health, Federal Aviation Administration, NASA, National Science Foundation and the Department of Defense, among others.
In addition to its high NSF status, Mississippi State is the only university in the state to achieve Innovation and Economic Prosperity University status from the Association of Public and Land-grant Universities and its Commission on Innovation, Competitiveness and Economic Prosperity. The designation—attained after a rigorous review process—recognizes Mississippi State for working to advance engagement and economic well-being in the state, region and nation.
The complete NSF report is online at
ncsesdata.nsf.gov/herd/2018
. Discover more about research at Mississippi State at
www.research.msstate.edu
and
www.dafvm.msstate.edu
.
MSU is Mississippi's leading university, available online at
www.msstate.edu
.
James Carskadon | Public Affairs