RFRL and GRI Launch Unmanned Aircraft Systems Delta Region Initiative
March 21, 2019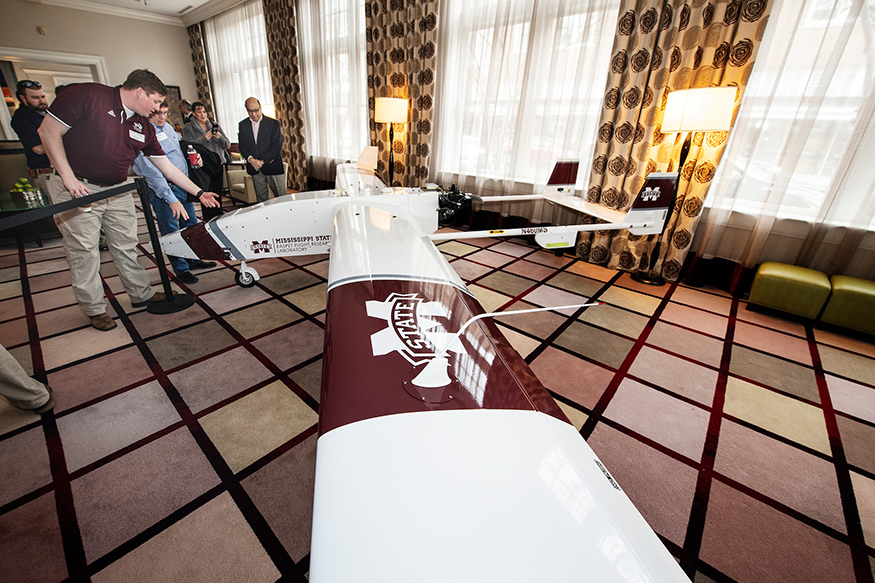 The TigerShark XP3 sits on display in the lobby of Greenwood's The Alluvian hotel during the March 8 kick-off event for Mississippi State's unmanned aircraft systems Delta Region Initiative.
Photo by Megan Bean.
Mississippi State University is once again using unmanned aircraft systems expertise and resources to benefit the Magnolia State.
The university's Raspet Flight Research Laboratory recently launched its Delta Region Initiative in Greenwood. MSU is partnering with eight Mississippi Delta counties to determine areas where unmanned aircraft systems can support local functions such as fire and disaster response, as well as other uses like monitoring dams and levees.
"This will be an incremental, step-by-step process of us working into the fabric of everyday operations in the Delta aviation environment," said Raspet Flight Research Lab Director Dallas Brooks. "We want to make sure that everything we do in some way supports what you need."
A key piece of the initiative is a certificate of authorization from the Federal Aviation Administration that provides guidelines and allows MSU to fly unmanned vehicles over a 5,000-square-mile area in the Delta region. That area includes part of Arkansas, allowing for the monitoring of both sides of the Mississippi river.
MSU is partnering with local governments and airports in Bolivar, Carroll, Coahoma, Grenada, Leflore, Sunflower, Tallahatchie and Washington counties as part of the initiative. Brooks said that in addition to providing direct support to these areas, the collaborative relationships make the area a good place to conduct UAS research and testing.
"When we propose work to the government, when we propose work to industry partners, we can say 'a great place to get this done is the Mississippi Delta region,' and we'll have a long list of reasons why," he said.
Raspet flight crews have been a regular presence in Greenwood in recent months as the Greenwood-Leflore Airport has hosted training and acceptance flights for the center's new TigerShark XP3 unmanned aircraft. Last month, flight crews led by MSU
Geosystems Research Institute
Director Robert Moorhead were able to use UAS to survey flooding in the Greenwood area.
Moorhead and his colleagues have been using UAS for over 10 years to monitor environmental factors such as coastal erosion, algae blooms and river flooding. Last year, MSU personnel went to Marks and flew small unmanned vehicles to examine flood impacts along Highway 278, a major road connecting highway in Mississippi. The data collected during those flights was utilized by river forecast centers, along with state and federal agencies.
When flooding began to take place last month, Raspet's unmanned vehicles were utilized because they can fly for longer periods of time and survey larger areas of land. Moorhead was able to show the rise of floodwaters over a two-day period, and how those images compared with base pictures of the same areas taken in January. He said while river gages provide valuable data to those monitoring floods, aerial images help authorities understand the impacts of floodwaters reaching different heights.
"Our goal is to provide imagery in real time, so flooding can be predicted and reported to tell you where the water is going, where you need to evacuate and what roads need to be shut down," Moorhead said.
During Friday's launch in Greenwood, Brooks outlined several MSU UAS initiatives. Since Brooks joined Raspet in 2015, the center has received or is programmed for up to $44 million in federal research and testing contracts. The center conducts research to support the Department of Defense, the Federal Aviation Authority and U.S. Department of Homeland Security, among others.
"I truly believe that we are the nation's leading academic UAS research and development institution," Brooks said. "We have some close competition, but we have built a UAS research portfolio that I believe is unmatched."
MSU is the lead university for the FAA Alliance for System Safety of UAS through Research Excellence (ASSURE). The university also leads the U.S. Department of Homeland Security Common UAS Test Site. Additionally, MSU works with Mississippi economic development officials to support the state's growing aerospace industry.
Founded in 1948, Raspet Flight Research Laboratory is a nationally recognized leader in the field of experimental aviation research. For more, visit
www.raspet.msstate.edu
.
MSU is Mississippi's leading university, available online at
www.msstate.edu
.
Contact:
James Carskadon
Office of Public Affairs
Mississippi State University