Carnegie Foundation Recognizes Mississippi State with 'Elite Status' for Research
January 16, 2019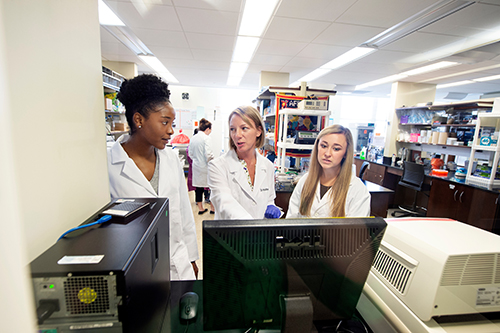 Assistant Professor of Biological Sciences Heather Jordan, center, works in her Harned Hall lab with Mississippi State biological sciences/pre-dental senior Alanna Bond of Cordova, Tennessee, left, and biological sciences graduate student Casey Raborn of Hudsonville, Michigan, right. Undergraduate and graduate students are engaged in a wide range of research opportunities at MSU, which has been recognized in the latest update of the Carnegie Classification of Institutions of Higher Education as a very high research activity doctoral university.
Photo by Megan Bean
A new review of U.S. higher education further affirms Mississippi State University's status as one of the nation's leading research institutions.
The Carnegie Foundation released an update of the influential Carnegie Classification of Institutions of Higher Education, and Mississippi State is designated as a "Very High Research Activity" doctoral university. This classification represents the highest level of research activity for doctorate-granting universities in the country.
MSU is one of only 120 schools to achieve the distinction. Of note, the university also holds the Carnegie community engagement classification.
"Carnegie's very high research classification speaks directly to the commitment of our outstanding faculty and staff, as well as our undergraduate and graduate students, who are engaged in transformational research and creative discovery. This recognition is truly a university-wide achievement," MSU President Mark E. Keenum said.
"Over the course of our 140-year history, Mississippi State has been committed to leading our state forward with innovative teaching, service and research that makes a difference in the many communities we are so very proud to serve," he said.
Overall research funding, number of doctoral graduates, and research staff are among the criteria used to determine Carnegie classifications. Mississippi State joins universities such as Stanford, MIT, Duke and Johns Hopkins in the very high research activity tier.
"Our research portfolio is growing, diversifying, and increasingly collaborative and multi-disciplinary, and all of these factors are reflected in our classification as a very high research university," said David Shaw, MSU's vice president for research and economic development.
In addition to its Carnegie classification, Mississippi State is the highest ranked university in the state in the recently released National Science Foundation Higher Education Research and Development Survey for Fiscal Year 2017. It is ranked 64th nationally among public institutions.
MSU leads all other institutions in Mississippi with nearly $241 million in overall R&D funding—accounting for more than half of the state's total of $477 million. It is home to the largest total number of research personnel, including more than 600 principal investigators.
For the sixth consecutive year, Mississippi State leads the Southeastern Conference in social sciences and is ranked 17th nationally with $34.6 million in expenditures. Three Bagley College of Engineering disciplines were rated in the top 50, including industrial at 33rd, mechanical at 25th and aerospace at 33rd. MSU also ranked 31st in the NSF's "Other Engineering" subfield.
Mississippi State's research funding comes from a wide range of sources, including business and industry, trade groups, and local governments, state offices and federal agencies, including the USDA, National Institutes of Health, Federal Aviation Administration, NASA, National Science Foundation and the Department of Defense, to name a few examples, Shaw said.
In the latest NSF survey, the 140-year-old land-grant institution's $109 million in R&D expenditures in agricultural sciences places the university in the nation's Top 10—a position it has held for the better part of two decades.
As it works to support the state's $8-billion agriculture and forestry industry, MSU also is focused on national and international partnerships that address hunger and poverty. The university is leading the USAID Feed the Future Innovation Lab on Fish, and it works closely with the U.N. Food and Agriculture Organization as a Center for Knowledge for Aquatic Health.
"Research at MSU is also an economic development success story—driving innovation and creating new opportunities," Shaw said.
Since its founding in 1948, MSU's Raspet Flight Research Laboratory has led discovery and innovation in manned flight, and served as a start-up facility for leading aerospace companies—providing workspace, technical training and assistance with product development and research. Mississippi State also leads the FAA's national Center of Excellence for Unmanned Aircraft Systems and the Department of Homeland Security's Systems Demonstration Range Facility for UAS.
The university's Center for Advanced Vehicular Systems works closely with the state's growing automotive manufacturing industry, and is also an international leader in autonomous vehicle, mobility systems and advanced materials research and development.
The High Performance Computing Collaboratory at MSU is home to supercomputing assets that support innovative research activities across the university, including the Alliance for System Safety of UAS through Research Excellence, Center for Cyber Innovation, Center for Computational Sciences, Geosystems Research Institute, Institute for Computational Research in Engineering and Science, Institute for Genomics, Biocomputing and Biotechnology, and the Northern Gulf Institute. MSU is also a leader in computer science and engineering education and research, and one of only three universities to hold all three National Security Agency cyber excellence designations.
The MSU-led Thad Cochran Research, Technology and Economic Development Park is Mississippi's oldest and largest research park. The 272-acre park is home to more than 1,700 employees, 12 buildings and a diverse lineup of tenants, including private businesses, start-up companies, government offices and research centers and institutes. After two decades of steady growth, the park is in a phase of significant expansion covering an adjacent 52 acres.
Mississippi State is also the only university in the state to achieve Innovation and Economic Prosperity University status from the Association of Public and Land-grant Universities and its Commission on Innovation, Competitiveness and Economic Prosperity. The designation—attained after a rigorous review process—recognizes MSU for working to advance engagement and economic well-being in the state, region and nation.
Additional information about the Carnegie Classification of Institutions of Higher Education, which is produced by the Indiana University Center for Postsecondary Research, is online at
carnegieclassifications.iu.edu
.
MSU is Mississippi's leading university, available online at
www.msstate.edu
.
Written by
Jim Laird