Alan Alda Shares Value of Communicating Science During Lecture at MSU
August 30, 2018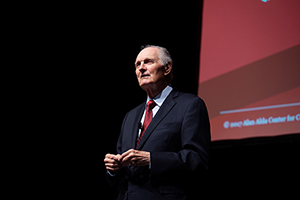 Award-winning actor Alan Alda gives a public lecture at Mississippi State on the importance of communicating effectively about science.
Photo by Megan Bean
Award-winning actor Alan Alda shared his passion for communicating science with the Mississippi State University community during a public lecture.
Alda, best known for his role as Hawkeye Pierce on "M*A*S*H," is leading an on-campus Alda-Kavli workshop this week for university research faculty on how to communicate effectively about science. During Monday's public lecture in Lee Hall's Bettersworth Auditorium, Alda shared how to better explain science by using a personal example – when he had to undergo an intestinal anastomosis, a procedure he had performed on "M*A*S*H." Or, as the doctor explained, he was going to cut out a failing part of the intestine and connect the good parts together.
"He said what he had to say in plain words, and it wasn't any less true or accurate," Alda said. "It meant a lot to me to hear that doctor be so clear."
In 2009, the Alan Alda Center for Communicating Science was founded at Stony Brook University in New York. Funding from the California-based Kavli Foundation supports the joint mission of both organizations to advance science and promote public understanding of scientific research.
Alda said many scientists struggle with the "curse of knowledge," and are so familiar with the details of their work that they forget what it is like to have no prior knowledge of their expertise.
"If you can't get to the level of the audience, you're in trouble," Alda said.
The son of an actor, Alda began acting in a theater at the age of 16. In addition to playing Hawkeye Pierce, Alda wrote and directed many episodes of "M*A*S*H" during its run from 1972-1983. Over the course of his distinguished acting career, Alda has received seven Emmys, six Golden Globes and was nominated for an Academy Award. In addition to acting, he has spent over 20 years working to promote the understanding of science among the public. He is also a bestselling author.
The Alan Alda Center for Communicating Science helps scientists and health professionals communicate about complex topics in clear, vivid and engaging ways, which leads to improved understanding by the public, media, elected officials and others outside of their own disciplines. The center developed training methodologies inspired by scientific storytelling featured on the PBS television series Scientific American Frontiers, hosted by Alda. For more, see
www.aldacenter.org
.
Funding for the MSU workshop is being provided by the Robert M. Hearin Foundation, in addition to the Kavli Foundation.
MSU is
Mississippi
's leading university, available
online
at
www.msstate.edu
.
Story by James Carskadon