Mississippi State Reflects on Another Year of Growth and Rising Prominence as Research Leader
January 2, 2018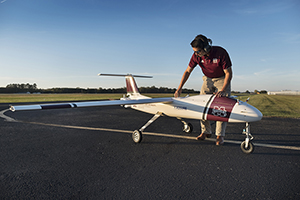 With aerospace among Mississippi State's many areas of special research focus, the university is designated as the FAA's Center of Excellence for Unmanned Aircraft Systems and in 2017 was tapped to lead the U.S. Department of Homeland Security's Small Unmanned Aircraft Systems Demonstration Range Facility, which consists of multiple sites primarily in southern and coastal Mississippi.
Photo by Megan Bean
Building on its legacy as a world-class research institution where students are driven to make a difference, Mississippi State University made headlines in 2017 for its dynamic achievements in areas such as agriculture and forestry, computer science, engineering, social sciences, and the arts and humanities.
In addition to achieving numerous top rankings in 2017, MSU research teams are leading projects with local and global impact, developing agricultural solutions to solve world hunger, creating more sustainable beaches and barrier islands on the Gulf Coast and formulating better vaccines to combat pandemic influenza, to name just a few.
"We have tremendous momentum right now," said MSU President Mark E. Keenum. "Our university teams are leading more than 50 percent of all funded research in our state, contributing greatly to Mississippi's $8 billion agricultural and forestry industries, and working with major companies to bring new investments and new high-skill, high-paying jobs to our region. "I'd put our performance up against any university in the country – public or private," he said. "The results speak for themselves."
The year wrapped up with the announcement that Mississippi State maintained its ranking among the nation's top 100 research institutions by the National Science Foundation, as well as its position as Mississippi's highest-ranked research university.
Meanwhile, MSU, which improved its performance in every engineering category of the 2017 U.S. News & World Report college rankings, remains a vital hub for the nation's aerospace research and development programs.
In addition to its designation as the FAA's Center of Excellence for Unmanned Aircraft Systems, Mississippi State was tapped in 2017 to lead the U.S. Department of Homeland Security's Small Unmanned Aircraft Systems Demonstration Range Facility, which consists of multiple sites primarily in southern and coastal Mississippi.
MSU's Center of Advanced Vehicular Systems continues to cultivate powerful research partnerships that are driving the future of automotive technology. CAVS is working with an international team to produce the world's first all-electric, autonomous SUV and is partnering with Nissan, Toyota and other leading manufacturers to develop advanced composite materials, batteries and components that will power vehicles of the future.
November marked the grand opening of the Ulysses S. Grant Presidential Library and Williams Collection of Lincolniana at Mississippi State's Mitchell Memorial Library. MSU is one of only six universities housing a presidential library, and with the addition of the Lincolniana collection, is now one of the nation's foremost repositories for Civil War-era research.
As the state's largest university, MSU remained the first choice for Mississippi's high-school graduates in 2017, welcoming a fall enrollment of 21,883 students representing all 50 states and more than 80 foreign countries.
.
Financial technology company SmartAsset announced that a Mississippi State education has the highest value of all colleges and universities in the state. Their analysis also found that MSU graduates earn higher average starting salaries than their peers from other state colleges and universities.
Additionally, two distance degree programs offered by Mississippi State's College of Education were ranked among the nation's best by College Choice.Net and Great Value Colleges. That same month, Money Magazine ranked MSU among the top 50 "Best Colleges for Your Money" in the U.S. and the best in Mississippi.
The Journal of Small Business Management ranked MSU No. 6 in the world for the impact of its entrepreneurship research, a ranking that was further strengthened by the November opening of MSU's off-campus Center for Entrepreneurship and Outreach in conjunction with the Greater Starkville Development Partnership.
Also in 2017, Mississippi State achieved two distinctions for its veteran-oriented campus culture. MSU was named a top-50 university for veterans by Military Times Best: Colleges 2018 and earned the 2018 Military Friendly Schools Gold Medal from Victory Media.
"Our university owes its growth and success to students who have chosen to pursue their degrees and their dreams at Mississippi State and the outstanding faculty and staff who teach, mentor and guide them," said Keenum. "MSU focuses on providing a supportive environment that helps transform students into leaders who solve real-world problems as part of their learning experience. Their drive to make a difference is garnering positive recognition for Mississippi State, both at home and abroad."
MSU is Mississippi's leading university, available online at
www.msstate.edu
.
Contact:
Checky Herrington