UAS Program Flourishes at Mississippi State
July 25, 2017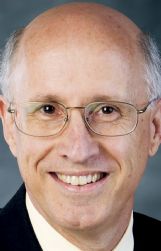 David Shaw
Vice President
Office of Research and Economic Development
Mississippi State University
Unmanned aerial systems research at Mississippi State University is gaining national and international prestige.
More of the same is what David Shaw, the university's vice president for research and economic development, has in mind.
"I will never say that I am satisfied," Shaw told Starkville Rotarians at Starkville Country Club on Monday. "But I am certainly very happy with the trajectory that has been created."
In the spring, the unmanned aircraft program became an official testing site for the United States Department of Homeland Security (DHS), Shaw said.
"Now, MSU and Mississippi are, frankly, the center of the universe for anything the DHS touches," Shaw continued. "That is FEMA, customs and border control, and all other units. Anything they can even think about doing with homeland security and unmanned aircraft will be tested right here in the state."
In May 2015, the FAA selected MSU to lead a team of more than a dozen universities in running a national research center on unmanned aircraft-- The Alliance for System Safety of UAS through Research Excellence (ASSURE). That research is supposed to help the FAA find ways to safely combine drones and manned aircraft.
Before being selected to lead the Homeland security test site, drone testing was conducted at MSU's Stennis Space Center on the Gulf Coast and at the Raspet Flight Research Laboratory in Starkville. Now, testing will be done at multiple locations across the state, including Camp Shelby in Hattiesburg and Singing River Island in Pascagoula.
The school's UAS program also received national recognition this summer, Shaw said, when FOX News visited campus for 48 hours to film a feature of the program.
"Before leaving campus, they told me they were so impressed with the program and said they will be back," Shaw said.
Shaw said the university is now engaged with federal agencies like the National Oceanic and Atmospheric Administration (NOAA) and the Department of Defense.
Because of those relationships, Shaw continued, other federal agencies are now beginning to reach out to the university because a partnership with MSU's expertise would benefit their research.
The program has also partnered with countries in Africa, such as Ghana and Morocco.
"The commitment has been made at every level of the university to really see our brand grow and flourish," Shaw said. I can say we have never been in a better position."
Story by Devin Edgar/Dispatch Staff
The Dispatch