Mississippi State, Home of the FAA COE FOR UAS Research, is Selected to Lead Homeland Security UAS Test Site
April 20, 2017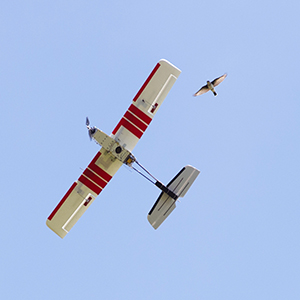 Building upon its role as a Center for Excellence in Unmanned Aircraft Research, Mississippi State University will lead a major research and development project for the Department of Homeland Security.
#WeRingTrue
http://bit.ly/2pgrJ4s
Mississippi State University will lead a major research and development project for the Department of Homeland Security (DHS) after a rigorous and highly competitive review process.
The DHS Science and Technology Directorate (S&T) has selected Mississippi as the new base of operations for small unmanned aircraft systems (sUAS), commonly known as drones, and a Mississippi State-led partnership will oversee the initiative.
The new DHS S&T Small Unmanned Aircraft Systems Demonstration Range Facility will support homeland security operations and training by providing UAS flight and exercise support facilities that will support operational evaluation of UAS in a variety of applications and scenarios.
In a joint statement, Mississippi's congressional delegation on Wednesday [April 19] welcomed the decision.
U.S. Senators Thad Cochran (R-Miss.) and Roger Wicker (R-Miss.) and U.S. Representatives Bennie G. Thompson (D-Miss.), Gregg Harper (R-Miss.), Steven Palazzo (R-Miss.) and Trent Kelly (R-Miss.) strongly endorsed the proposal developed by the Mississippi Partnership.
"This is a great win for not only Mississippi State University, but our entire state, and I appreciate the support of our partners and federal, state and local officials," said MSU President Mark E. Keenum.
"Our talented faculty and the research resources we have developed are paying significant dividends to economic development, national defense and homeland security in our state and nation, and also providing our undergraduate and graduate students with wonderful research opportunities that are making a difference," he said.
The Mississippi Partnership includes the Mississippi National Guard's Camp Shelby Joint Forces Training Center, the Mississippi Air National Guard's Gulfport Combat Readiness Training Center, NASA's Stennis Space Center, the Jackson County Port Authority and the Hancock County Port and Harbor Commission.
"I can't say enough about the outstanding effort and work our team put into our proposal, and I think it's a terrific example of the collaborative culture we've developed on campus," said David Shaw, MSU's vice president for research and economic development.
"We work very well with others," he said.
The university also works closely with the Mississippi Development Authority and Gov. Phil Bryant's office to support the state's robust aerospace sector. (See more at
www.mississippi.org/home-page/our-advantages/target-industries-overview/aerospace/
)
"We anticipate the new DHS demonstration range facility will be an additional asset in the State of Mississippi's overall economic development focus on advanced technology and highly-skilled jobs," Shaw said.
The new DHS S&T demonstration range facility will utilize approximately 2,000 square miles of restricted airspace at altitudes up to 60,000 feet, primarily in southern and coastal Mississippi. Multiple sites will play a role in the testing, including Camp Shelby, the Stennis Space Center buffer zones, and Singing River Island.
"Mississippi has a number of unique assets that facilitate unmanned aircraft test flights that aren't found in many other places, and we can fly year round," said Dallas Brooks, director of MSU's Raspet Flight Research Laboratory, who will lead the demonstration range team.
The partnership's members provide facilities, expertise and personnel to conduct specialized evaluation and training for DHS agencies, including the U.S. Coast Guard, Secret Service, Customs and Border Protection, Immigration and Customs Enforcement and the Federal Emergency Management Agency.
According to Brooks, thanks to the diversity of the Mississippi Partnership's offerings, DHS S&T will be able to conduct exercise and training to support a wide variety of simulated scenarios, including disaster relief (flood, fire and earthquake), highway and rail accidents, border protection, and containment of hazardous materials spills.
All of the planned exercise events will incorporate small UAS to assist DHS in monitoring and assessing the simulated scenarios over both land and water.
"Unmanned aircraft provide unmatched data that first responders and homeland defense agencies can use to make faster and better decisions across a range of critical situations," Brooks said.
The demonstration range facility is expected to begin operations this fall, he said.
Mississippi State has a long and distinguished history in manned and unmanned aeronautics research. Raspet has a global reputation for composites research, and it has served as a start-up facility for various aerospace companies in the Gulf South's growing Aerospace Corridor providing workspace, technical training and product assistance.
"We have a very successful track record, and are looking forward to the new opportunities the DHS facility brings," Brooks said.
The DHS designation further enhances the state and MSU's growing unmanned aircraft R&D portfolio. In 2015, after a similar competitive review process, the Federal Aviation Administration selected the MSU-led Alliance for System Safety of UAS Through Research Excellence (ASSURE) to operate a new national center of excellence for unmanned aircraft systems. Last fall, the State of Mississippi joined the Pan-Pacific UAS Test Range Complex — one of seven of the FAA's UAS test sites.
"Mississippi is fast becoming the nation's hub as public and private partners work to successfully — and safely — integrate UAS into our national airspace system, and Mississippi State is leading the way," Brooks noted.
For additional information about the DHS S&T demonstration range facility or other UAS activities in the state, contact Brooks at
dallas.brooks@msstate.edu
or 662-268-6156.
MSU is Mississippi's leading university, available online at
www.msstate.edu.
Written by Jim Laird.