Robert Moorhead, Director of Geosystems Research Institute Explains some of the New FAA Unmanned Aerial Systems Regulations
July 7, 2016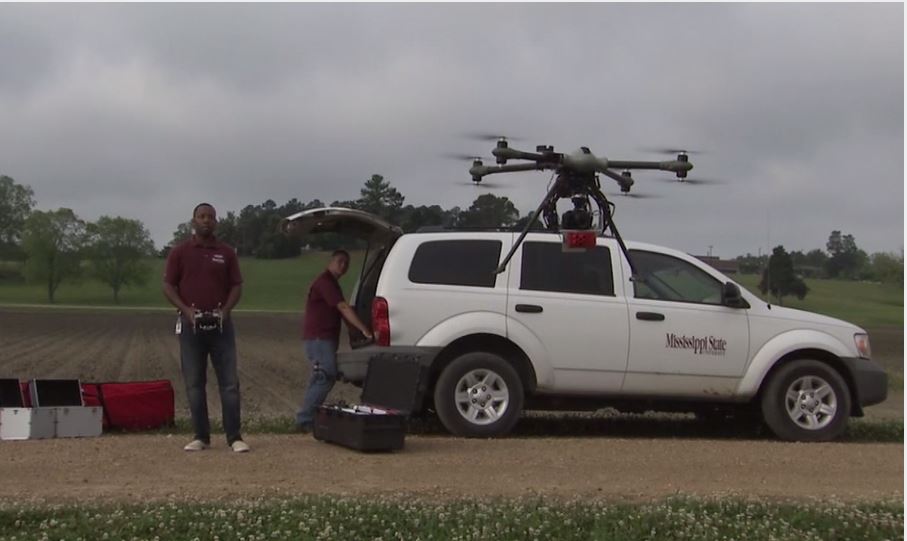 David Young and Sean Meacham
Mississippi State UAS pilots
fly a multiroter drone
By Symone Woolridge
WTVA NEWS
The Federal Aviation Administration has released new regulations for flying unmanned aircraft systems. This means flyers across the world will have to keep up, including Mississippi State University programs.
Out of 22 universities, Mississippi State leads the Federal Aviation Authority's National Center of Excellence for Unmanned Aircraft Research.
"You may have aircraft from Columbus air-force base doing touch and go's. You may have general aviation that may fly out of there. All of those have people in the cockpit. Well, can we land unmanned aircraft?" Director of the Geosystem Research Institute Robert Moorhead said.
The focus of doing the research is to help the FAA develop policies to integrate unmanned aircraft systems also known as drones, into the national airspace.One lesson MSU students are taught is to pay attention to clouds and also fly near solar noon where they get direct lighting.The Federal Aviation Administration revealed its new rules and safety regulations -- some include flying drone operations only during daylight or during twilight with anti-collision lights on the drone. Another is keeping drones within sights distance, and anyone flying a drone must be 16-years-old with a remote pilot certificate with a confirmed UAS rating from the FAA or be supervised by someone who does.
"We try to teach and make people aware of the rules but they have been changing a lot and it's been a lot of one-off," Moorhead said.
But with those changes comes more opportunities for students to get jobs, engineering and architecture service firms to do work, and even flight services to use drones and do work they haven't been able to do in the past.