Making the MSU Map: GRI Research Institute Uses GIS Expertise to Provide New Insights for the University
November 13, 2023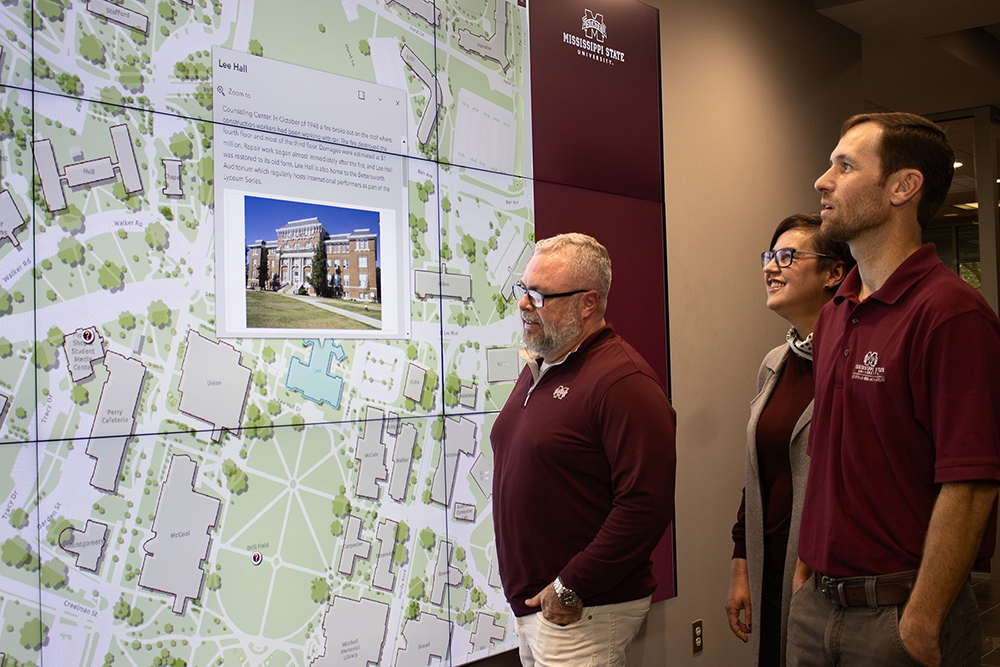 MSU Geosystems Research Institute Assistant Extension Professor John Cartwright, front, along with GRI Research Associate Kate Grala and GRI GIS Coordinator Andrew Nagel view the new interactive campus map built by the researchers. In addition to providing a user-friendly map, the team is using geographic information systems to generate data that can be used by campus administrators in support of university operations. Photo by Sarah Miller.
As geoscientists around the country observe Nov. 15 as National Geographic Information Systems Day, Mississippi State University researchers are using GIS to generate new insights and interactive maps as the campus evolves.
Since 2020, MSU's Geosystems Research Institute has been working with Campus Services to build a dynamic geospatial platform of MSU and its facilities, giving administrators intuitive tools for mapping and analyzing campus information. The project is led by John Cartwright, GRI assistant extension professor.
"This venture is a testament to the institution's dedication to fostering a modern and dynamic campus environment, where innovation and efficiency go hand in hand," Cartwright said. "A campus GIS empowers university stakeholders to optimize resources, improve facilities management, and foster innovation across various academic, administrative and security domains, ultimately enriching the overall campus experience and supporting the institution's long-term strategic goals."
The efforts are now visible to the larger campus community in the form of a
new online campus map to help visitors navigate the university
. The interactive map contains information about campus buildings and land features. It also will serve as the foundation for multiple applications that will allow students to navigate campus efficiently and locate facilities and key services.
"Accurate mapping that can be efficiently changed as our campus evolves is vitally important to our operation," said Jeremiah Dumas, executive director of transportation at MSU. "Behind the map that is viewable from our website are countless layers of data that we utilize throughout the year. The work of John and his team has made a tremendous impact on our daily operation."
GRI's stakeholders for GIS capabilities extend well beyond the university.
The institute's Geospatial Education and Outreach, or GEO, Project is the leading source of geospatial education and technical information for the communities of Mississippi. Since its inception in 2006, over 4,000 local, state and federal government officials have utilized services offered through the GEO Project to make better informed decisions.
The GEO Project is funded by the National Oceanic and Atmospheric Administration.
By
James Carskadon