MSU GRI Research Associate Honored at SCAPMS Graduate Research Symposium
November 3, 2023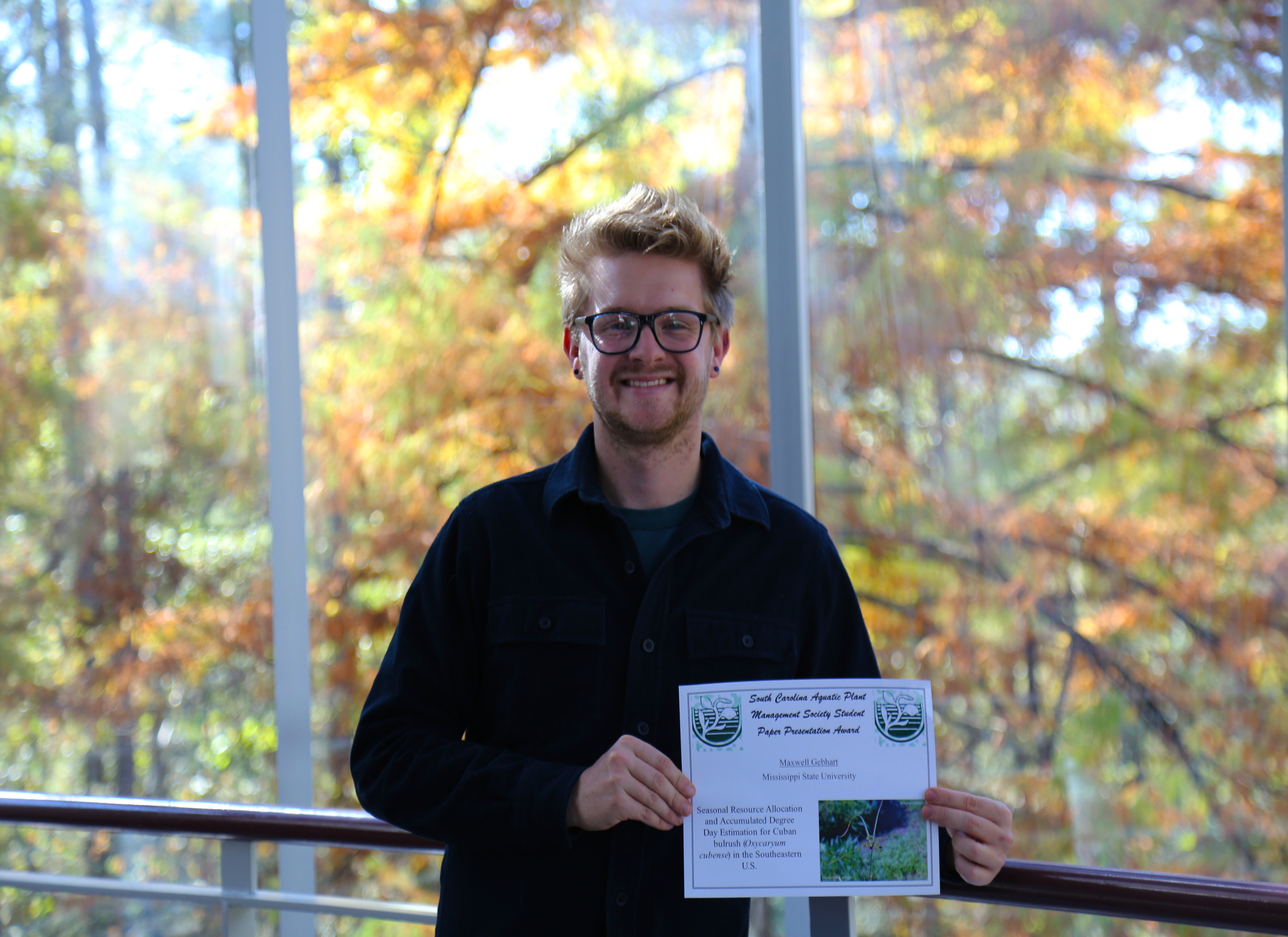 Max Gebhart, GRI Reseach Associate
Photo by Diane L. Godwin
Max Gebhart, a research associate at MSU's Geosystems Research Institute, received an award for delivering one of the top three presentations at the South Carolina Aquatic Plant Management Society Graduate Research Symposium. His presentation, titled "Seasonal Resource Allocation and Accumulated Degree Day Estimation for Cuban Bulrush (Oxycaryum cubense) in the Southeastern U.S.," was recognized for its exceptional research, innovation, and presentation style.
The 44th annual meeting hosted by SCAPMS in North Myrtle Beach, South Carolina, acknowledged Gebhart's insightful research on the invasive U.S. Cuban bulrush. Cuban bulrush is an invasive epiphytic aquatic plant species that forms dense floating vegetation islands in lakes, reservoirs, and other flowing waters across the Southeastern region. The work presented by Gebhart is part of an ERDC (Engineer Research and Development Center) study led by Gray Turnage, MSU assistant research and extension professor and MSU alum, Ryan Wersal, an associate biological sciences professor at Minnesota State University, Mankato, and Allison Squires, an MNSU master's candidate.
"Gebhart and Squires' passion, enthusiasm, and dedication for aquatic invasive species research paid off," Turnage said. "We are extremely proud that together they continue to achieve great things and are recognized for their innovative approach to studying the ecology and biology of Cuban Bulrush and its effects on the environment in the southeastern U.S."
Gebhart and Squires research of Cuban Bulrush is funded by the U.S. Army Corps of Engineers. For more information on their research please contact them at
mgebhart@gri.misstate.edu
and
allison.squires@mnsu.edu
.
The MSU Geosystems Research Institute was established in 2000, and is a collaborative of academic scientists, engineers, and government and industry stakeholders active in conducting research to advance knowledge and practice in earth and its systems to improve policy and public awareness.
www.gri.msstate.edu
.
The South Carolina Aquatic Plant Management Society is a non-profit stakeholder group focused on developing better management strategies for waterbodies impacted by nuisance aquatic plant species within the state of South Carolina.
www.scapms.org
.
By
Diane L. Godwin