GRI Research Professor, Reddy to Repeat as President of Mississippi Academy of Sciences
November 17, 2021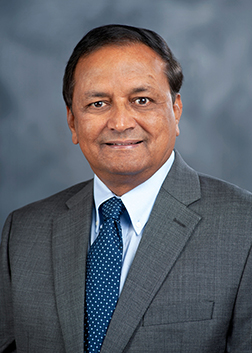 K. Raja Reddy
For the first time in its 86-year history, the Mississippi Academy of Sciences has elected a Mississippi State faculty member to serve a consecutive second term as president.
K. Raja Reddy, a Geosystems Research Institute research professor in the Department of Plant and Soil Sciences in MSU's College of Agriculture and Life Sciences and scientist in the Mississippi Agricultural and Forestry Experiment Station, will continue his term as president of the state's science organization through 2022.
Reddy has been serving the Mississippi Academy in different capacities for the past six years. Last year, under his leadership, the MAS initiated a fellows' program, the first in the history of the MAS. He also introduced a special issue in the Journal of Mississippi Academy of Sciences. In Spring 2020, he received the Contribution to Science Award, the academy's top research award.
A William L. Giles Distinguished Professor, Reddy additionally serves as director of the Soil-Plant-Atmosphere-Research, or SPAR, unit and focuses his research on crop stress physiology. A fellow of the American Society of Agronomy, the Crop Science Society of America, and the Mississippi Academy of Sciences -- an honor that recognizes professional work, leadership, research and service -- Reddy has more than 33 years of service at MSU and in various professional societies.
Reddy is also a fellow of the Council of the American Association for the Advancement of Science, or AAAS, and was elected as the 2020 Researcher of the Year by the International Cotton Advisory Committee. He also is a recipient of MSU's Ralph E. Powe Research Excellence Award, the university's top research honor.
Reddy has mentored 30 students, including five undergraduate research scholars, 11 master's students and 14 doctoral students, 15 post-doctorates and more than 40 visiting scientists at MSU.
For more information about the Mississippi Academy of Sciences, visit online at
https://msacad.org
.
GRI is online at
www.gri.msstate.edu.
MSU is Mississippi's leading university, available online at
www.msstate.edu
.
By
Karen Brasher