GRI Affiliated Scientist Raja Reddy Receives Prestigious Alumni Award of Excellence
K. Raja Reddy, a GRI affiliate and Research Professor and Plant Physiologist in the Plant and Soil Sciences Department at Mississippi State University, has received the pretigious Alumni Award for Excellence from Sri Venkateswara University College Alumni Association, Sri Venkateswra University, Tirupati, India.
Dr. Reddy earned all his degrees from Sri Venkateswara University, Tirupati, Andhra Pradesh, India:
BS 1975 - Botany, Zoology and Chemistry
MS 1977 - Botany with Applied Plant Physiology
Ph.D. 1984 - Applied Plant Physiology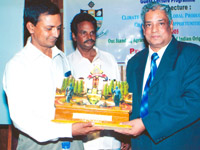 His research focuses on environmental control of plant growth and development, crop simulation model development and applications and global change biology and remote sensing applications in natural resource management. In addition, he teaches graduate courses in the Plant and Soil Sciences Department in Environmental Plant Physiology and Global Change Biology. Dr. Reddy has been active in the American Society of Agronomy, Crop Science Society of America, Biological Systems Simulation Workgroup, Association of Agricultural Scientists of India Origin, and the Beltwide Cotton Conferences.
He is shown here accepting his award from the Vice Chancellor of SV University, Tirupati.
Dr. Reddy may be reached via email at
krreddy@pss.msstate.edu
.