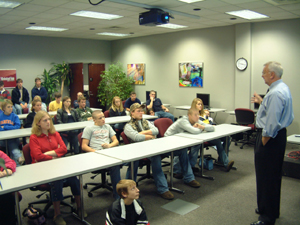 The GeoResources Institute recently hosted its first annual GIS Day event on November 17, 2004, at the ERC Building in the Thad Cochran Research, Technology and Economic Development Park at MSU. National GIS Day is held each November and is a grassroots event that formalizes the practice of geographic information systems (GIS) users and vendors of opening their doors to schools, businesses, and the general public to showcase real-world applications of this important technology. National GIS Day is principally sponsored by the
National Geographic Society
, the
Association of American Geographers
,
University Consortium for Geographic Information Science
, the
United States Geological Survey
,
The Library of Congress
,
Sun Microsystems
,
Hewlett-Packard
, and
ESRI
.
The GeoResources Institute's GIS Day event was co-sponsored by the GeoSciences Department of MSU, and was attended by many local area high school students with interests in math or science, as well as junior college students, and undeclared freshmen at MSU, and focused on career options in the fields of GIS and remote sensing. One particular group of quite impressive 7th and 8th graders traveled all the way from North Gulfport to MSU, and stayed 2 days in order to participate in a tour of other areas of the MSU campus.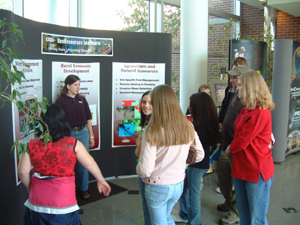 Dr. Jon Arvik, director of the GRI branch at John C. Stennis Space Center on the Mississippi Gulf Coast, was the guest speaker for GIS Day at MSU. In addition to viewing interesting exhibits and demonstrations, the students participated in hands-on computer labs and enjoyed an outdoor GPS treasure hunt. Students also experienced our CAVE or Cave Automatic Virtual Environment, the MSU facility that is a room-sized, multi-person, high-resolution, three-dimensional video and audio theater, which consists of an enclosure with three walls and a floor each serving as a screen. Four separate projectors are used to cast images onto each, resulting in a projection space that consumes the human occupant.
At the conclusion of the event, all participants enjoyed delicious pizza graciously donated by
Domino's Pizza
and
Papa John's Pizza
of Starkville. Door prizes were given away to registered attendees and included, among others, an MSU football autographed by Head Coach Sylvester Croom, an MSU baseball autographed by Head Coach Ron Polk.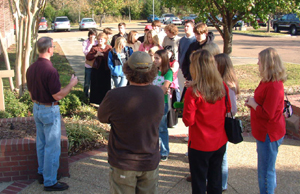 GRI scientists and staff who diligently worked on the planning committee for GIS Day were: Debbie McBride, Dr. Bill Cooke, Joby Prince, Louis Wasson, Mary Love Tagert, and Rita Jackson.
For those who participated in our 2004 GIS Day, we welcome your inputand suggestions for future events. Email your comments to
DebbieMcBride
, Event Coordinator.
Visit the
gallery
of images taken throughout the day.
For more information on National GIS Day, visit
www.gisday.com
.