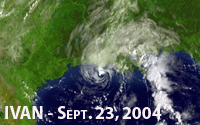 Hurricane Ivan has returned for an encore appearance in the Gulf of Mexico, this time as a tropical storm that could come ashore along the coasts of Texas or Louisiana. Just last week, Ivan wreaked havoc along the Alabama and Mississippi coasts, practically wiping out tourism-reliant coastal cities such as Orange Beach and Gulf Shores, Alabama. As Ivan moved inland, structures were ripped apart, power was lost to millions of homes, and at least 52 deaths have resulted in the US alone. Another 70 people lost their lives to Ivan as it tore through the Caribbean prior to reaching the Gulf of Mexico.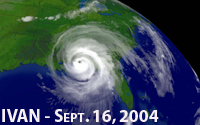 And now, the circulation from the storm has worked its way back into the Gulf of Mexico over the past couple of days. Ivan has once again gained enough strength to become a named tropical storm, and is approaching the southwestern coast of Louisiana. A Tropical Storm Warning is in effect for a portion near the mouth of the Mississippi River at Louisiana westward to the town of Sargent, Texas. The center of Tropical Storm Ivan is about 95 miles southeast of Cameron, Louisiana, and is moving west-northwest near 15 mph and packing maximum sustained winds of 45 mph.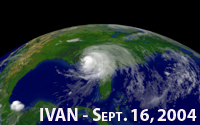 Within the next 24 hours, Ivan may continue to strengthen and is predicted to make landfall near Port Arthur, Texas, by nightfall. Even though this is a poorly organized storm, forecasters predict that Tropical Storm force winds near the point of landfall, high tides and heavy rain will be the main threats from resurrected Ivan.
Pat Fitzpatrick, PhD, a well-known GRI scientist around the National Weather Service (NWS), recently assisted hurricane forecasters with Hurricane Ivan.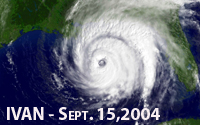 During Ivan's approaching landfall last week, Dr. Fitzpatrick, author of a book entitled
Natural Disasters: Hurricanes
, traveled to the Mississippi Emergency Management Agency (MEMA) in Jackson, Mississippi. He conferred with Jackson's NWS forecasters and provided a second opinion on the situation. He also showed additional observations unknown to the MEMA.
When asked about his participation, Dr. Fitzpatrick stated, "I pointed out that buoys were showing 42 ft. waves (before the buoys actually stopped working) and that these waves had to go somewhere. They wouldn't be 40 ft. on the coast because the water is too shallow, but they would still be huge. My guess is that the damage we see in Pensacola, Florida, and the destroyed Interstate10 Bridge, were a result of these waves on top of a 15-foot storm surge."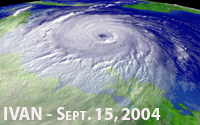 "I also showed them valuable satellite data obtained from the US Navy website along with the US Geological Survey's storm surge data. So, in summary, I just brought some new data sources to the table and provided a second opinion. The NWS then consulted with Governor Barbour during press briefings," added Dr. Fitzpatrick.
The hurricane researcher also explained how forecasters were worried the storm may not turn, and ultimately hit Biloxi as a Category 4 Hurricane. Fortunately for Mississippi (and not for our neighbors to the east), it did make that last-minute turn.
Imagery provided by the
National Oceanic and Atmospheric Administration (NOAA)
.