GRI's Roger L. King Appointed to Subcommittee
STARKVILLE, Miss.--Roger L. King, Associate Director for Research of the GRI, has been appointed to the Earth Science Information Systems and Services Subcommittee (ESISS) of the Earth Systems Science and Applications Advisory Committee.
King, Giles Distinguished Professor of Electrical and Computer Engineering at Mississippi State, will serve on a national panel that serves as a conduit between NASA and the scientific-technical community.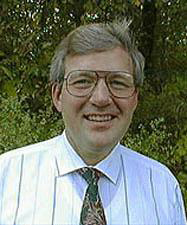 "The ESISS has a number of extremely important functions to carry out, not the least of which is to provide NASA a regular channel of communication with the scientific and technical community," said ESISS executive secretary Martha Maiden.
In a letter thanking King for his willingness to serve, she said the panel, created under the Federal Advisory Committee Act, represents an essential element of ESISS' efforts to structure and manage a vigorous research program.
"Much of the National Aeronautics and Space Administration's past success can be traced directly to the strength of the advisory committees and their interactions with NASA," Maiden added.
King's research specialty areas include remote sensing, signal processing and intelligent systems. The GeoResources Institute's objective is to maximize information utilized from remote sensing and other geospatial technologies for socio-economic benefits through a coordinated approach to research and educational project development.
"It's a great honor to be selected for this important role and I am exceedingly proud that MSU will be positioned as a principal source of guidance for NASA's investment in future information systems," said King, a South Charleston, W.Va., native and Mississippi State faculty member since 1988. "I think it also reflects well on the caliber of research of the MSU faculty and staff currently engaged in studies related to NASA's mission."
King received bachelor's and master's degrees in electrical engineering, respectively, from West Virginia University in 1973 and the University of Pittsburgh in 1977. He earned a doctorate in engineering from the University of Wales, United Kingdom, in 1988.
MSU's department of electrical and computer engineering is one of the largest and oldest academic units within the Bagley College of Engineering, with approximately 650 undergraduate students and 165 graduate students. Jim Harden chairs a department that includes 24 faculty, 16 administrative and research support staff, and about 40-50 teaching and research assistants.