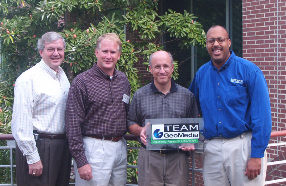 Photo: (Left to Right) Dr. Roger King, NCRST-E Consortium Manager; Dr. Chuck O'Hara, NCRST-E Consortium Coordinator; Dr. David Shaw, Director - GeoResources Institute; Orlando McDowelle - Intergraph
Starkville, Mississippi - The GeoResources Institute (GRI) at Mississippi State University recently received designation as a Team GeoMedia Registered Research Laboratory, part of a worldwide program for qualified universities, laboratories and institutions of higher education using GIS and geospatial technology for research and teaching.
The award was presented to Dr. David Shaw, Director of the GeoResources Institute, at a recent meeting of the National Consortium of Remote Sensing in Transportation-Environmental Assessment (NCRST-E) held on August 26-27 and hosted by the GRI. NCRST-E is one of four consortia established by the U.S. Department of Transportation and NASA to lead in the application of remote sensing and geospatial technologies in the transportation industry.
Intergraph Mapping and GIS solutions, a pioneer in the mapping and GIS industry, offers the Team Geomedia program, which provides students, educators and researchers with the leading-edge technology and development support needed for applied research activities.