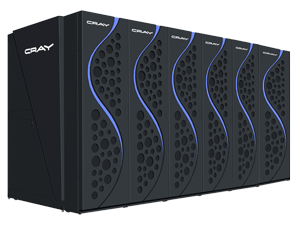 The state's premier research university is boosting its high-performance computing capabilities with the installation of a new supercomputer. Mississippi State's High Performance Computing Collaboratory (HPC2) will soon be home to a CS300-LC cluster supercomputer -- a liquid-cooled system manufactured by Cray Inc. (Nasdaq: CRAY).
Named "Shadow," the new system will serve as the primary high-performance computing asset for shared research, according to an MSU official. "This investment is the latest example of Mississippi State's commitment to providing powerful, technologically-advanced resources for our researchers," said Trey Breckenridge, director of high performance computing. The installation is expected to be completed by December. Once operational, Shadow will be 10 times faster than the university's previous fastest system, but consume far less energy, Breckenridge said.
According to the company, the CS300-LC system features an innovative, liquid-cooled design that uses warm water heat exchangers instead of chillers to directly cool the computer's processors and memory, allowing for a more efficient removal of system heat. "This new cooling technique is revolutionary. The water used to cool the system is the temperature of the outside air, up to 104 degrees, with almost no additional air conditioning required," Breckenridge said. "There are a few systems doing this in Canada and northern Europe, but as far as I know, we are the first to ever try this in a subtropical environment," he added.
Shadow will be housed at the HPC2 facility in the Thad Cochran Research, Technology and Economic Development Park adjacent to the MSU campus in Starkville. "Shadow achieves its tremendous computing power largely due to the use of 260 new Intel Xeon Phi coprocessors. They are so powerful that two of them, which combined are smaller than a loaf of bread, are as fast as our fastest computer just 10 years ago -- and that system was the size of six refrigerators," Breckenridge said.
The supercomputer will support research for the land-grant institution's Center for Advanced Vehicular Systems, Center for Computational Sciences, Geosystems Research Institute, Center for Battlefield Innovations and Institute for Genomics, Biocomputing and Biotechnology, as well as the MSU-led Northern Gulf Institute.
HPC2's members are focused on multidisciplinary, team activities that share a common objective of advancing the state-of-the-art in computational science and engineering using high-performance computing, Breckenridge said. "The supercomputing power we have in Mississippi is becoming more important as the state and region develop an economy where businesses built on technology thrive," Breckenridge said. "The economic impact of Shadow and our other resources is significant now and will be much more so in the years to come," he added.
The Cray system will run a broad set of applications for research projects, including fluid dynamics, structural mechanics, materials modeling, astrophysics, molecular modeling, transportation modeling and planning, weather and ocean modeling, geographic information systems, genomics and bioinformatics.
Mississippi State consistently ranks among the nation's fastest academic computing sites as compiled by TOP500.org, which is an international organization dedicated to cataloging the world's most powerful supercomputers.
Also see:
Cray Press Release