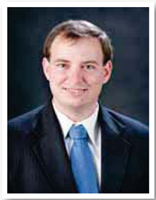 Joshua Jeanson is the new licensing associate in Mississippi State's Office of Technology Commercialization. Jeanson will be responsible for identifying, protecting, marketing, and licensing intellectual properties developed at the university. In his new position, he will work closely with the colleges of Engineering, Arts and Sciences, Veterinary Medicine and Forest Resources.
Jeanson holds bachelor's and law degrees from the University of Mississippi. Currently completing a master's at Mississippi State in industrial systems and engineering, he has served as a research associate at the university's Geosystems Research Institute.
The Southaven native holds membership in several professional organizations, including the Association for University Technology Managers, Mississippi and American Bar and American Intellectual Property Law associations. He also serves on the alumni board of his fraternity, Delta Psi.