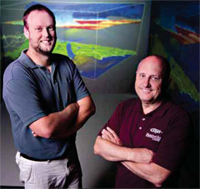 Two Mississippi State researchers have blended their expertise in computer science and meteorology to create a software company to help better understand weather patterns more quickly.
Phil Amburn and Jamie Dyer formed a custom software company, Visual Analytic Solutions, LLC, to provide operational, broadcast and research meteorologists, meteorology students and weather hobbyists with enhanced methods of scientific visualization and analysis to help interpret data from numeric weather models.
The unique combination of Dyer's experience, which includes a stint with the national weather service, and Amburn's knowledge as a computer scientist at Mississippi State's Geosystems Research Institute, enabled the development of weather forecasting through a multidimensional simulation model.
While in the early stages of creating the software, Amburn said their product will make diagnosing weather patterns more efficient and effective. It uses 3-D and 4-D software to help make forecasts. As Amburn notes, using this type of software isn't new, nor has it been widely adopted. However, he believes the advances in technology will help them create a product that industry specialists will use in their forecasting.
"We're just piggybacking on tremendous advances in software," Amburn said regarding the development of their simulation product. "We really think we can put together a product of interest to professional meteorologists."
Amburn and Dyer met on campus while working on a project involving simulation of hurricanes. As they collaborated together on research to better predict weather systems with an advanced technique involving meteorology and scientific visualization, they saw an opportunity to create a new company.
Since forming a company covered by the Mississippi University Research Act, Amburn and Dyer have received business assistance from a variety of locations on campus, including the Office of Technology Commercialization, the Thad Cochran Endowment for Entrepreneurship and the Entrepreneurship Center.
Through their newly formed company, Dyer and Amburn will continue to develop and refine their products in an effort to help provide additional assistance to meteorologists everywhere.
For more information about the Visual Analytic Solutions, LLC, contact Amburn at
amburn@gri.msstate.edu
and Dyer at
jd381@msstate.edu
.