Overnight visitors to the Mississippi Gulf Coast are learning about its natural resources in a very unique way - from their hotel room keycards. Funding provided by the National Marine Sanctuaries Foundation has allowed the Northern Gulf Institute to display various educational messages pertaining to natural resources and environmental issues on almost 100,000 keys at participating hotels in the Gulf of Mexico region. Hotel keycards have traditionally displayed an advertisement for restaurants and other local businesses, but this is one of the first uses of the product for educational purposes.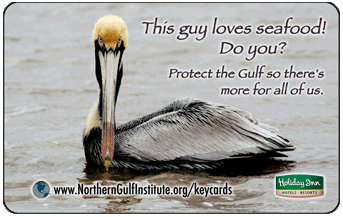 The keycard program is an exciting opportunity for NGI, partner hotels, and also local businesses. Each key not only features educational information - it doubles as a coupon. This adds an experiential learning element to each message. For example, hotel guests will learn about the Gulf of Mexico Barrier Islands, and then be able to visit them at a discounted rate through a participating local tourism venue.
Use of the NGI keycards began at participating hotels on June 1, 2008. Currently, participating hotels include Holiday Inn - Gulfport, Holiday Inn - Biloxi, Gulf Hills Hotel and Conference Center (Ocean Springs), and Indian Head Station (Ocean Springs). Tourism venues include Ship Island Excursions (Gulfport), Walter Anderson Museum of Art (Ocean Springs), and the Biloxi Shrimping Tours. Key Approach, the card manufacturer, has donated its services and shipping costs in support of this program.
Almost entirely a one-man - uh, woman - show, this project was the brainstorm of Joby Prince, a Research Associate at Mississippi State University. For more information on this program, its partners, and its sponsors, please visit the NGI Keycard Program website at
http://www.NorthernGulfInstitute.org/keycards
or contact Joby at
joby@ngi.msstate.edu
.
Read the August 11, 2008,
Sun Herald article
.