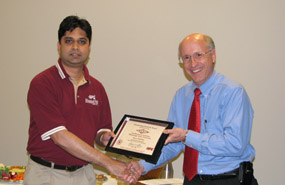 The second annual GRI Awards Ceremony was held on May 2, 2008, at the HPC2 Building in the Research Park. Many researchers attended and joined in congratulating the winners!
The GRI Awards program began in 2007, as the brainchild of Dr. Lori Bruce, Associate Director of Research at GRI. Dr. Bruce came up with the idea in order to better recognize the outstanding research conducted by the personnel and affiliated faculty of GRI. The many successes of GRI can easily be attributed to the hard work of the GRI faculty, staff, and students.
>
GRI Award Recipients were as follows:
Research Faculty - Pat Fitzpatrick (honorable mention Surya Durbha and Raja Reddy)
Academic Faculty - Tie between Bill McAnally and Bill Cooke
Research Associate - Ryan Wersal (honorable mention John Cartwright)
Research Assistant - Wilfredo Robles (honorable mention Amrit Takur and Terrance West)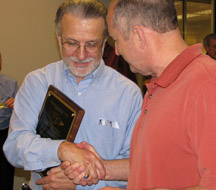 For more information about the GRI Awards program, contact Dr. Lori Bruce at
bruce@gri.msstate.edu
.