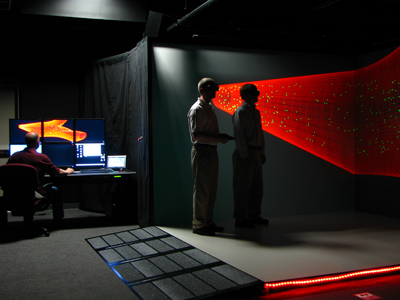 The High Performance Computing Collaboratory (HPC
2
) at MississippiState University held a Grand Opening Ceremony for the new Virtual Environment for Real-Time EXploration(VERTEX) facility. Located within the HPC
2
Building, the VERTEX facility provides the ability to create any type ofvirtual environment. Software that has been developed in the past, orthat is expected to be developed, will allow in-depth studies in variousfields such as hurricane models, forest management, architecture models,vehicular models, and airplane, rocket, and submarine development. Thiswill open doors of collaboration with different departments on campus,as well as potential relationships with any group looking to get acloser look into their field of study, whether it's a veterinarianstudent getting a closer look at the inner workings of an animal, or anMSU football player improving his game - the possibilities are endless.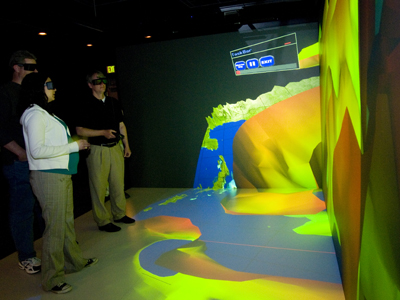 With the increased availability of virtual environment locations,the ability to interact remotely in real time will become morepracticable. Researchers in different virtual environments at differentlocations will be able to share the same virtual experience of studyingthe same storm pattern or the same airplane simulation.
The HPC
2
is a coalition of member centers andgroups that share a common core objective to advance thestate-of-the-art in computational science and engineering using highperformance computing.
For more information about the VERTEX facility, contact Dr. Robert Moorhead at
rjm@gri.msstate.edu
.