What has all the thrills of jumping off the roof of a building but with none of the injuries?
Jumping off the roof of a building in a virtually created environment!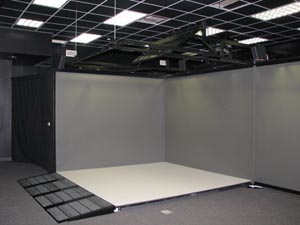 That's just one of the many sorts of experiences that will be made possible in the new FLEX virtual environment being built to replace the previous CAVE - or Cavernous Automated Virtual Environment - at the HPC2.
GRI's Dr. Robert Moorhead is leading this NGI project funded by several sources, including NOAA and NASA, which will provide the ability to create any type of virtual environment. Software that has been developed in the past, or that is expected to be developed, will allow in depth studies in various fields such as hurricane models, forest management, architecture models, vehicular models, and airplane, rocket, and submarine development. This will open doors of collaboration with different departments on campus such as CAVS or the Sim Center, as well as potential relationships with any group looking to get a closer look into their field of study, whether it's a veterinarian student getting a closer look at the inner workings of an animal, or an MSU football player improving his game. The possibilities are endless.
The FLEX will be run by a Linux pc cluster called Gremlin comprised of 20 processors with 4 graphic nodes, one node for each surface. At 7 1/2' tall by 10' square foot, the FLEX surfaces will be made up of a floor and 3 walls that will be hinged. This hinge feature will allow for an enclosed immersive experience with a capacity for 6-8 people, as well as opening up the third wall to provide a 3D experience for as many as 20-30. With a combination of 8 digital projectors, 4 surround sound speakers, and 2 connected motion sensors, the FLEX will provide a multi-media 3 dimensional encounter of virtually experiencing and interacting with any environment imaginable. The user will be immersed into this environment through use of a shutter type pair of goggles or polarized goggles, as well as with motion trackers attached to the head and hand. There will be potential in the future for additional motion trackers to be added to increase the number of interactive movements. Motion trackers allow a user to swing a golf club, pick up a cup, or move objects around the virtual environment.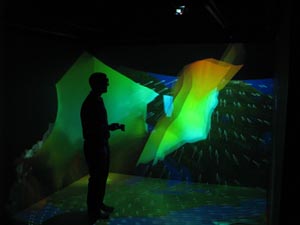 Software that is being developed or implemented includes Conduit, which can display ESRI programs (ArcGIS, ArcGLOBE). Amira and VGEO software can generate contours and isosurfaces. As FLEX technology is becoming more and more prevalent in different locations, the ability to market software packages for them will increase in demand. Also with the increased availability of virtual environment locations, the ability to interact remotely in real time will become more practicable. Researchers in different virtual environments at different locations will be able to share the same virtual experience of studying the same storm pattern or testing the same airplane simulation. The NGI will be at the forefront of this technology wave.
For more information about the new FLEX at the HPC2, please contact Dr. Robert Moorhead at
rjm@gri.msstate.edu
.