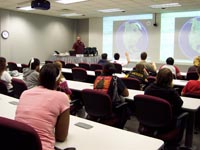 On Wednesday, November 14, 2007, about 165 Starkville area students attended a GIS Day event hosted by the GeoResources Institute and the Northern Gulf Institute. This has been the fourth year the GRI has hosted a GIS Day event. The day was comprised of a rotation of sessions focused on different GIS technology applications in subjects such as geography, agricultural science, earth science, and environmental science. Faculty and students from Forestry, GeoSciences, and Plant and Soil Sciences worked together to present some of the many uses of GIS and other spatial technologies in real world applications. Activities included aquatic plant surveys, forest stand visualization, GPS navigation, and computer cartography.
Featured during the day was a bus that housed a mobile lab. Students were led through exercises in using ArcGIS to create detailed maps of Oktibbeha County. Also featured was a Precision Agriculture workshop showcasing equipment used for precision farming by researchers in the Plant and Soil Science Department. Equipment was brought over from the University's research farm, so that students could get an up close and personal look.
Led by GIS Day Organizer, Joby Prince, the core committee members for National GIS Day consisted of GRI staffers John Cartwright, Wade Givens, Rita Jackson, Debbie McBride, Gunnar Olson, Louis Wasson, and Ryan Wersal.
The National Geographic Society has sponsored Geography Awareness Week since 1987 to promote geographic literacy, with a focus on the education of children. The level of geographic knowledge in our country is disturbingly poor. Studies have shown that half of young Americans can not find New York on a map, only 37% of young Americans can find Iraq on a map, though U.S. troops have been there since 2003, and one third of young adults did not know the time difference between New York and Los Angeles. GIS Day is an outreach event on the Wednesday of Geography Awareness Week.
The day concluded with a hot dog picnic on the HPC patio, and was considered a huge success by all involved.