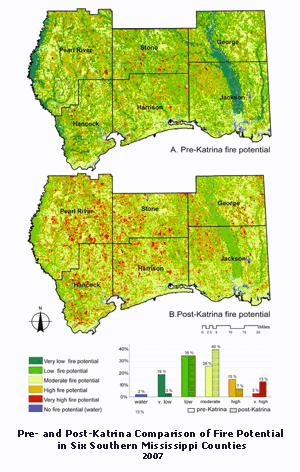 Click to Enlarge
Researchers at GRI and MSU's Department of Geosciences are developing fire potential models for the
National Wildland Fire Assessment System (WFAS)
, a web-based information and forecasting center maintained by the
U.S. Forest Service
and the
U.S. Department of Agriculture (USDA)
. The researchers received three grants from the
National Aeronautics and Space Administration (NASA)
to demonstrate the utility of NASA assets for fire potential decision support.
MSU is one of only two universities featured in fire prediction research on the system's web site. MSU researchers are creating linear additive GIS models for fire potential in Mississippi and eastern states. Previous research on fire potential modeling has been focused on the western United States. The researchers have worked with the U.S. Department of Agriculture Forest Service Fire Sciences Laboratory, the Forest Inventory and Analysis unit and the Mississippi Forestry Commission to develop the modeling concepts.
The researchers are developing and testing the models for Mississippi, from which the concepts will be expanded to the entire region. They are also testing various sources for the variable data. Eventually, they hope to have dynamic regional models that include data for climate, fuels, topography, ignition and vegetation available on the system's Web site. Each variable is weighted based on its correlation to historic fire occurrence in Mississippi.
To see the research progress, check the Web site for the Wildland Fire Assessment System:
www.wfas.net
.
For more info contact Dr. William Cooke at
whc5@geosci.msstate.edu
.