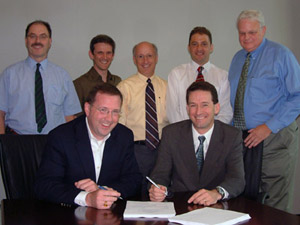 MSU and Surrey Technology, Ltd. of the UK, meet to finalize the microsatellite training contract. Left to right, front row: Mark Magee, MSU Sponsored Programs and Paul Brooks, Surrey Technology Business Development Director. Back Row: Phil Davies (Surrey), Adam Baker (Surrey), David Shaw (MSU-GRI), Andy Phipps (Surrey), and Chuck Hill (MSU-GRI).
Microsatellite technology developed by the GeoResources Institute at MSU will hopefully be the only source of microsatellite development for federal agencies. Microsatellites are satellites with a mass between 10 and 100 kilograms. They present a more compact, easier and less expensive means of collecting information and providing navigational and communication services. The technology has progressed so far in the last decade that NASA and other federal agencies have now deemed microsatellites as an attractive option for a portion of their space missions.
NASA has contracted with the GeoResources Institute to learn about microsatellites, develop the body of the satellite and integrate the equipment for NASA's first microsatellite mission, which will be a lunar mission. GRI and NASA researchers are receiving training from Surrey Space Technology, Ltd., in the U.K. on microsatellite design, operations and testing. SSTL has helped more than a dozen countries develop their own microsatellites and has assisted on 25 successful launches over the last 20 years. In partnership with BAE Systems, MSU will test the satellite and the integration of the instruments.
After the initial launch, MSU will be the training and development site for microsatellites in the U.S. The knowledge and research will be available to many federal agencies, like the Department of Defense and the National Oceanic and Atmospheric Administration, to allow them to build and use smaller, cheaper satellites. For some agencies, microsatellite technology will fall within cost guidelines and allow space missions for the very first time.
For more information on this project, contact Chuck Hill at chill@gri.msstate.edu.
More press releases on this topic are available at:
Surrey Space Technolgy, Ltd.
The UK Register (PDF)
NASA NewsClips (PDF)