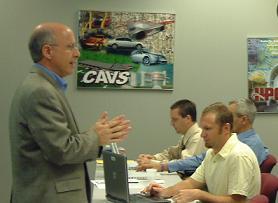 The Northern Gulf Institute (led by GRI Director, Dr. David Shaw) recently hosted a workshop on the use of Unmanned Aircraft Systems (UAS) to collect hurricane data. The UAS Gulf Region Stakeholder Workshop occurred on July 17 and 18, at the High Performance Computing Collaboratory (HPC2) at Mississippi State University in Starkville.
Twenty-eight scientists, researchers, developers and government officials participated in the workshop. The University of Miami, University of Alaska, Northup Grumman, Aurora Flight Sciences, National Oceanic and Atmospheric Administration and National Aeronautics and Space Administration were among those represented.
Unmanned planes have the potential to fly farther and stay with a hurricane longer to give hurricane predictors more data. More data is the key to better prediction of hurricane strength and direction. Scientists would also like several different types of aircraft for different missions-some to fly above or through the hurricane and others to fly near the surface of the ocean to get a variety of data, without endangering pilots.
The National Oceanic and Atmospheric Administration has tested and used several unmanned planes. But in the wake of Hurricane Katrina, the agency has focused more on unmanned planes and other methods to improve data collection. The NGI-sponsored workshop allowed participants to talk about the difficulties, needs and direction for developing new unmanned data collectors.
The Northern Gulf Institute is a newly created NOAA Cooperative Institute, and is a consortium of universities that offers research and education for the Northern Gulf Region. For more information, please contact David R. Shaw, PhD, NGI Director at
dshaw@ngi.msstate.edu
.