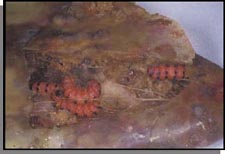 Cactus Moth larvae destroying a cactus pad
GRI-affiliated scientists involved in Dr. John Madsen's USGS Cactus Moth Project attended the International Cactoblastis cactorum Conference, Conferencia Internacional acerca de Cactoblastis cactorum, in Phoenix, Arizona earlier this month to share their knowledge and efforts with other interested officials from all over the world.
As a result of discussions that were held at the conference, USGS and MSU are cooperating with Doria Gordon (The Nature Conservancy, Florida), and Jim Bergen (The Nature Conservancy, Texas) to establish Cactus Moth Sentinel Sites on preserves from North Carolina to South Carolina, and south. The first Cactus Moth Sentinel Site on The Nature Conservancy lands was established on the Charles Deaton Ecological Preserve, in southeastern Mississippi in 2005.
New Cactus Moth Sentinel Sites are being established at the Organ Pipe National Monument of the National Park Service, in southern Arizona. Charles Conner, Invasive Species Coordinator for the park, is setting up the sites, and has agreed to assist USGS and MSU in setting up similar sites on other public lands in the Southwest.
Alix Rogstad, Invaders Program Manager, and Yajaira Gray, Conservation Outreach Coordinator, of the Arizona/Sonora Desert Museum of Tucson, Arizona are establishing multiple sentinel sites at the Museum.
Ty Peterson, Manager of Arizona Cactus Sales, is setting up a sentinel site at their 2-acre nursery in Phoenix which specializes in cacti, including many Opuntia, and other xerophytes.
Damon Waitt, Senior Botanist with the Lady Bird Johnson Wildflower Center, is establishing a sentinel site at the Wildflower Center in Austin, Texas.
Collaboration with Dr. Barron Rector of the Texas Cooperative Extension Service has been established to provide training to volunteers and to set up sentinel sites in southern Texas.
Many pricklypear dataforms were collected in Arizona, New Mexico, and Texas by MSU-GRI while the meeting was not in session, which will be included in the Cactus Moth Detection and Monitoring Network Database hosted by MSU-GRI. Arizona populations of several Opuntia species were checked in Santa Cruz Co. (Madera Canyon), Pima Co. (Santa Rita Experimental Range, Winkelman), and Maricopa Co. (Sycamore Creek).
For more information on the Cactus Moth project and the threat that is imposed by the moth, contact John D. Madsen, PhD, at 662-325-2428 or email at:
jmadsen@gri.msstate.edu
.