Dr. Scott Samson Named in ESRI Top 5 Instructors
Scott A. Samson, PhD, Associate Extension Professor with MSU's GeoResources Institute has been named one of ESRI's Top 5 Instructors for the 2006 Third Quarter. Dr. Samson has been an authorized ESRI instructor for 8 years, and offers the following courses through his workshops held in various locations throughout Mississippi:
Introduction to ArcGIS I
Introduction to ArcGIS II
Working with ArcGIS Spatial Analyst
Introduction to Programming ArcObjects with VBA
Introduction to ArcIMS
Authorization to offer workshops using ESRI GIS software requires considerable experience with GIS, rigorous examination by ESRI and demonstrated ability to teach effectively. For some courses, Dr. Samson is the only one in the Southeastern United States to offer advanced ESRI workshops. The other ESRI TOP 5 Instructors are from Florida, Texas and Connecticut. While other instructors' student totals numbered from 39 to 64, Dr. Samson taught a total of 153 students during the third quarter of 2006.
Dr. Samson has recently focused his Extension Service activities on utilizing GIS products to assist local and state government agencies with the adoption and integration of GIS in the management of government databases and for disaster preparedness. He was a speaker at the 26th Annual ESRI International User Conference in San Diego, CA this past August. The annual conference brings more than 13,000 attendees from more than 120 countries together under one roof to experience the ever-broadening range of GIS technology and applications.
The title of Dr. Samson's presentation at the international conference was Preparation for GIS Field Support for Disaster Management. His abstract was as follows:
Experiences encountered in GIS field support for disaster relief immediately following Hurricane Katrina helped to identify issues that should be taken under consideration in preparing for future GIS field support. Recommendations address not only spatial data, software and equipment but also personal preparations and logistics planning that will improve efficiency of field support. Issues range from self-sufficiency for 3 to 5 days to building disaster management databases prior to deployment in the field to assessing community assets following the disaster that will aid in the GIS field support.
ESRI was founded as Environmental Systems Research Institute in 1969, as a privately held consulting firm that specialized in land use analysis projects, and has evolved into the largest research and development organization dedicated to GIS. ESRI is the world leader in the nearly $2 billion GIS industry and employs over 4,000 people. With 10 regional offices in the United States, more than 80 international distributors, and users in more than 200 countries, ESRI meets the needs of its user community and sets the standards for the GIS industry.
Dr. Samson may be contacted at 662-325-9491 or
ssamson@gri.msstate.edu
.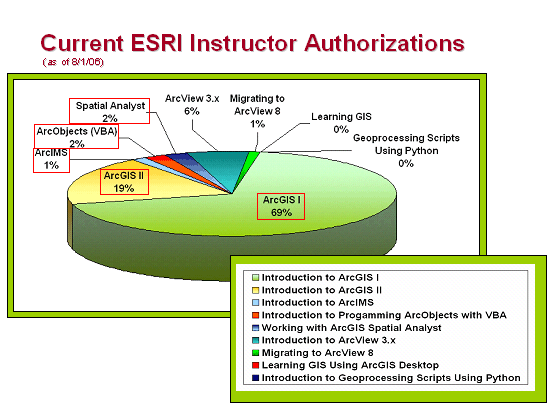 Courses outlined in red are those Dr. Samson is authorized by ESRI to teach. Percentages reflect the relative
number of all Authorized Training Partners in the United States authorized by ESRI to teach specific courses.