Governor Haley Barbour Helps Open New Addition to the High Performance Computing Collaboratory
Mississippi Gov. Haley Barbour said Thursday [Aug. 31] MSU's innovative leadership in computational technology is helping the state and nation become more competitive in the global economy.
"We're in a world economy that is driven by innovation through technology," Barbour told an audience at the official opening of a new $6 million addition to the university's High Performance Computing Collaboratory.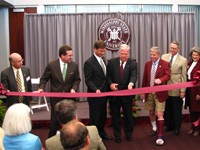 Congressman Chip Pickering, R-Miss., MSU President Robert H. "Doc" Foglesong, Bagley College of Engineering Dean Kirk Schulz, and HPC2 operations board chair David Shaw joined Barbour on the podium and for the ribbon-cutting ceremonies. Staff members also represented the offices of U.S. Sen. Thad Cochran and Rep. Roger Wicker, both R-Miss.
About 300 MSU faculty, staff and supporters turned out for the event at the new 28,000-square-foot expanded facility in the Thad Cochran Research, Technology and Development Park just north of the Starkville campus. After the ceremonies, dinner was provided featuring the traditional Hawg Cookin' and live music.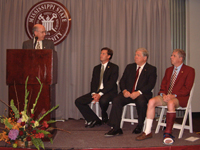 Pickering said MSU's high-performance computer capacity--coupled with that of the U.S. Army Corps of Engineers division in Vicksburg, Jackson State University and the University of Mississippi--already has established Mississippi as a "world-class leader" in the scientific field.
"This is about a team effort," Foglesong said in praising the support MSU has received from the governor's office and members of the state's congressional delegation.
"It's not just about Mississippi State," he added. "It's about the state of Mississippi. We're going to continue down the path of excellence in research."
The HPC2 consortium includes five centers focused on multidisciplinary computational science and engineering research, and education collaboration. The centers include the
Center for Advanced Vehicular Systems (CAVS)
, the
Center for Computational Sciences (CCS)
, the
Center for DoD Programming Environment and Training (PET)
, the
Computational Simulation and Design Center (SimCenter)
, and the
GeoResources Institute (GRI)
. The centers now generate more than $43 million annually from federal agencies and industry.
This story in full is available at
Mississippi State University