Community Outreach is Demonstrated by Hosting Mississippi Young Farmers and Ranchers Visit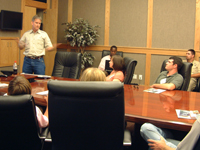 As part of the GRI's continuing efforts in education and community outreach, presentations about Advanced Spatial Technologies in Agriculture (ASTA) and other spatial technology programs were given to the Mississippi Young Farmers and Ranchers recently visiting the MSU campus.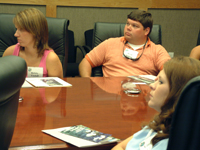 The group visit was part of a 2-day tour for approximately 20 up-and-coming young farmers and ranchers from all over the state of Mississippi who were hosted by Farm Bureau and MSU during their stay in our community. The MS YF&R program is designed by Farm Bureau for younger members, ages 18 - 35, who share an interest in improving themselves and agriculture. They are encouraged to use their own knowledge and the information gained about Farm Bureau to help formulate policies and programs that can lead to solutions to their problems.