Visiting PhD student from Brazil, Rodrigo A. A. Nobrega, Receives Award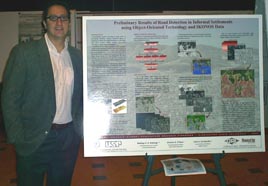 Rodrigo A. A. Nobrega, a visiting graduate student from Brazil, recently was awarded Runner Up for his poster entered in the Physical Sciences Poster Competition at the 4th Annual Research Symposium at MSU. His poster submission to the competition was entitled "
Preliminary Results of Road Detection in Informal Settlements using Object Priented Technology and IKONOS Data.
" Rodrigo works as an intermittent researcher under Dr. Charles O'Hara of the GRI, and is presently a PhD student at the Polytechnical School of Engineering at the University of Sao Paulo in Brazil.
For more information on Rodrigo's research, you may cointact him at (662) 325-5114 / (662) 325-0178 or via email at:
rodrigo@gri.msstate.edu
.