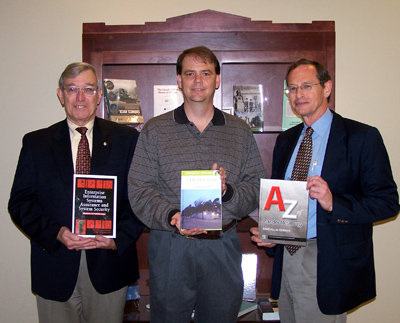 Dr. Pat Fitzpatrick, an Associate Research Professor and hurricane expert for the GeoResources Institute, recently published the second edition of his book "Hurricanes: A Reference Handbook". Honored by Mississippi State's Bagley College of Engineering, Fitzpatrick (center) is pictured with Ray Vaughn (left) and Rand German (right).
During each hurricane season, Dr. Pat Fitzpatrick, performs external service as a forecaster to the Mississippi Emergency Management Agency (MEMA). Typically, as a storm forms in, or enters, the Gulf of Mexico, GRI will provide forecast guidance on the storms track and intensity, and perform a "second opinion" to the National Hurricane Center guidance. During actual threats to Mississippi, Fitzpatrick will travel to Jackson, MS, to assist with the Emergency Operation Center.
In August of 2005, Dr. Fitzpatrick became part of his own research as Hurricane Katrina destroyed his home in Slidell, LA. He as able to ride out the storm north of Slidell and returned only to find a bare concrete foundation.
Dr. Fitzpatrick can be contacted at
fitz@gri.msstate.edu
.