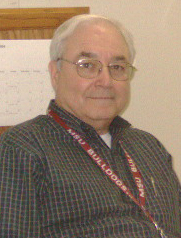 Jim Corbin, Deputy Director of GRI-Stennis, will receive a NASA award for his service on the Stennis Space Center Post-Katrina Housing Committee at a special awards ceremony set for March 3, 2006, at the StennisSphere Auditorium at the John C. Stennis Space Center in Bay St. Louis, MS.
This award reflects Corbin's dedication to Mississippi State University and care for his fellow employees, as does his personal involvement in other post-hurricane activities in his church and neighborhood.
"Though his own home was damaged and he and his wife Priscilla had to evacuate, he immediately began providing asstance to our GRI-Stennis staff and others who needed help. Jim is as fine a representative of an organization as I have ever had the pleasure to know, " stated Jon Arvik, Director, GRI-Stennis.