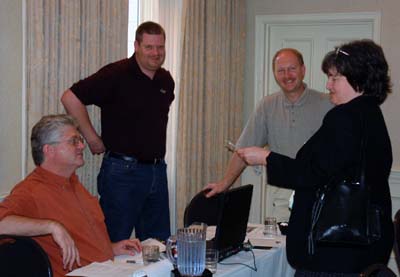 The GeoResources Institute hosted a one-day workshop on February 15, 2005 in Tunica, MS on techniques to both map the distribution of native cactus, and develop computer models to predict pricklypear cactus range and habitats. The GRI is participating in a cooperative research and outreach program with the US Geological Survey and US Department of Agriculture Animal and Plant Health Inspection Service to monitor the spread of the invasive cactus moth, Cactoblastis cactorum, which has the potential to devastate pricklypear cactus populations throughout North America and Mexico. To monitor cactus moth populations, GRI also has to know the distribution of the host plants, which include most species of pricklypear cactus.
The workshop was attended by scientists from federal and state agencies and universities, including
USGS
,
USDA-APHIS
,
Auburn
and
Mississippi State University
. Discussion topics included the national cactus moth program, MSU's cactus moth and cactus research efforts, and the southeastern regional GAP analysis program.
For more information, contact Dr. John D. Madsen at
jmadsen@gri.msstate.edu
or (662) 325-2428.