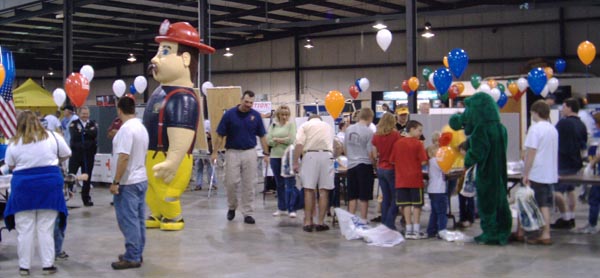 Dr. Pat Fitzpatrick and Jim Corbin, of GRI-Stennis, again participated in he Coastal Mississippi Xtreme Weather Fair held at the Stennis International Airport in Bay St. Louis on April 30, 2005. The Weather Fair definitely lived up to its name again this year, as thunder, lightning and over two and a half inches of rain drenched the area while families scurried from their vehicles for the shelter of the large airplane hanger where the fair was being held.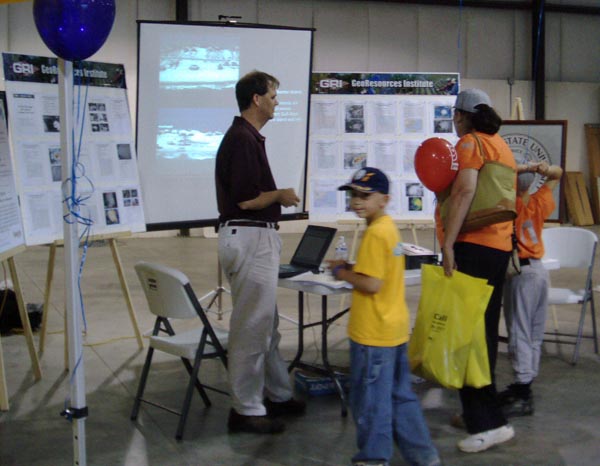 Dr. Fitzpatrick's hurricane research was the focus of the GRI exhibit, along with an impressive slideshow presentation on the devastation of Hurricane Ivan. Another popular attraction at the GRI exhibit was a handout compiled by Dr. Fitzpatrick that brought together everything one might want to know about hurricane preparation and mitigation, including hints related to insurance issues.
NOAA's "Hurricane Hunter" plane and crew was another popular exhibit, as well as the 9-foot-tall fireman teaching the kids fire safety.
Attended by hundreds of interested individuals, The Coastal Mississippi Xtreme Weather Fair's campaign slogan is to "plan, prepare, survive and restore" and is a community-sponsored event open to the public. Participants included trade associations, civic organizations, emergency managers, fire departments, public safety, military, governmental agencies, academic institutions, and commercial interests.
You may contact Jim Corbin at GRI-Stennis at (228) 688-4218, or
corbin@gri.msstate.edu
, and Dr. Pat Fitzpatrick at (228) 688-1157, or
fitz@gri.msstate.edu
.
For more information on The Coastal Mississippi Extreme Weather Fair, visit:
www.partnersforstennis.org/Hurricane/