GRI Research Associate Continues Service at "Woodie Camp" for Teens who Receive Environmental Education and Practical Skills Development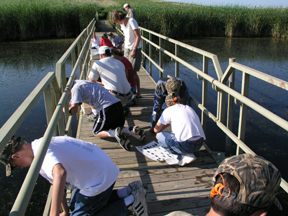 Campers collect samples from one of the 28 surrounding wetlands. - Photo from the Minnesota Waterfowl Association Woodie Camp 2004.
Ryan Wersal, GRI research associate, has a passion for teaching young teenagers about waterfowl and wetlands ecology. In fact, as a result of moving to Mississippi from Minnesota, he had to decline a position as assistant director of the Minnesota Waterfowl Association's Woodie Camp for kids. But Ryan's going back this year during August, to still serve as the camp counselor supervisor. This will be Ryan's 4th year as an instructor for groups of young campers ages 13-15.
Ryan became involved in Woodie Camp while working for the US Fish and Wildlife Service in Minnesota. The camp is located on 325 acres of restored prairie land at Fergus Falls, Minnesota, at the Prairie Wetland Learning Center. The camp is free to those selected from camper applications submitted earlier in the year.
You can reach Ryan Wersal by
rwersal@gri.msstate.edu
For more information about Woodie Camp, visit:
www.mnwaterfowlassociation.org/article.asp?cid=116
To view photos from last year's camp, visit:
www.mnwaterfowlassociation.org/article.asp?cid=117